A Great Place to Grow Your Family!
Tuesday, May 21, 2013
Jesus Christ, the Way, the Truth and the Life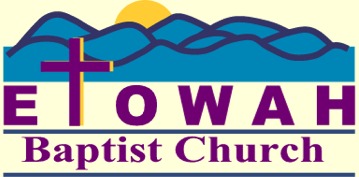 Welcome to Etowah Baptist Church

We're glad you've decided to learn more about our church. Our goal is to serve God by

being His vessel to lead people into a transformative, personal relationship with the Lord

Jesus Christ. We believe that EBC is a place where your family can grow in God's purpose.




If you have never visited us before, we've prepared many resources to help you get familiar

with our church and to be able to feel knowledgeable and comfortable when you visit us on our campus. Please feel free to click any of the following links to access our welcome resources:




Our Purpose: Our mission is live a lifestyle of worship by reaching unbelievers for Christ (evangelism), investing in the lives of other believers (fellowship), growing in an intimate friendship with Jesus (discipleship), and serving others (ministry), seeking strength to accomplish these goals through prayer.

Our Aim: To reach every available person, through every available means, at every available moment, no matter what the cost.