A Great Place to Grow Your Family!
Sunday, May 19, 2013
Jesus Christ, the Way, the Truth and the Life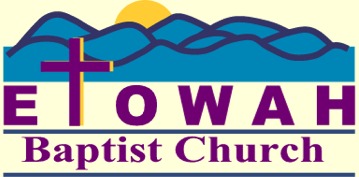 Joining EBC

At Etowah Baptist, we are always excited about visitors and guests become part of our church family. Membership in our congregation allows one to participate on decisions relating to church business, as well as hold key leadership positions within the church.

While there are a number of ways in which you may become a member of Etowah Baptist Church, the most vital and primary requirement for membership is that you must be "born-again." Without a personal relationship with Jesus Christ, evidenced by a growing transformation to become like Him, church membership really amounts to nothing in terms of eternity. The following are means by which an individual may join our church membership:

Baptism By Immersion: We believe that baptism in an essential act of obedience one should parktake in after coming to know Christ as Savior. Baptism is an outward symbol of an inward change. By baptism, the new believer is identifying with Christ's death, burial, and resurrection.

Transfer of Letter: If you are presently a member in good standing of another Baptist church, you may join Etowah by transferring your membership.

Statement of Faith: For those who may wish to join Etowah Baptist from another denomination, or in other cases, people may join our church by making a statement of their faith in Christ. This would include sharing their salvation experience and subsequent baptism by immersion.




New members are expected to participate in our brief new membership class. Our "First Steps" class will give you the information and guidance to help make your transition into EBC growing and fruitful!